Work where the action is. Innovate and improve your workplace by leaving it one day a week.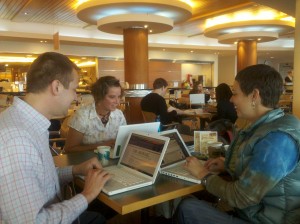 What if you had a second office? What if it was in a cool place surrounded by lots of cool people who weren't your co-workers but were working on similar and interesting things? My friend Rishi Shah brought me to something called Jelly in Chicago and San Francisco. It was co-working. People met one day of the week at a great coffee shop with their laptops to work on what it was they were working on, share ideas, have fun, and develop community. For some they escaped the isolation of the home office or sitting alone at a coffee shop. Others escaped the cubicle and co-workers they see 40 hours a week at their usual office.
I thought co-working was a brilliant concept. We've been doing it through the MANIAC initiative at the University of Wisconsin since July through something we developed called "studio." We keep it simple and meet in the student union every week. People stop by when they like…there is little structure. This week we were especially creative together and we snapped a photo. Ten minutes later as I was uploading the photo to blog about how great co-working is in a happening place, US Senator Russ Feingold stopped by. This doesn't happen in the home office or the cubicle. Work where the action is and the people are.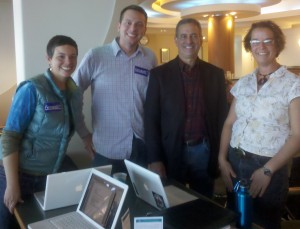 Working in innovative ways can make a difference and just be more fun. Co-working reduces isolation and helps you develop a new network of creative collaborators.