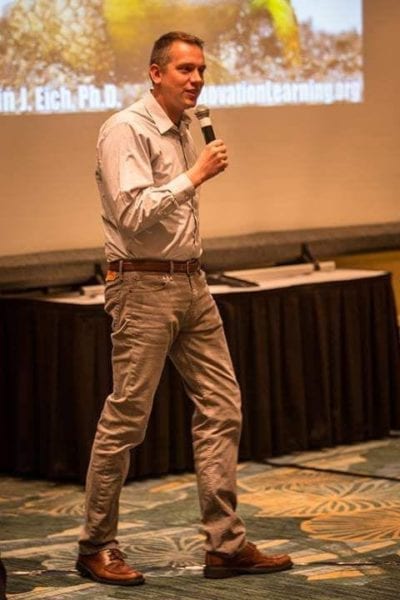 Darin Eich, Ph.D. is the author of Innovation Step-by-Step: How to Create & Develop Ideas for your Challenge & Root Down & Branch Out: Best Practices for Leadership Development Programs. He is a global design thinking creativity speaker & the founder of InnovationTraining.org. Darin designs innovation and leadership programs that have been used by over 1 million people that have been featured in USA TODAY & US NEWS. He has consulted for institutions like Dartmouth College & was president of BrainReactions, where he led open innovation projects for clients like P&G & the UN.
Darin's passion is to design and lead word class innovation and design thinking events and workshops. He loves to help locally in Madison, Wisconsin and globally with over 100 organization clients across the globe from San Francisco to Singapore. He can train your facilitators and leaders to design and lead the same kind of events. Engage in the same level of programs he has delivered at Ivy League institutions and for Silicon Valley companies at your site.
Learn more about Innovation Learning founder Darin, your speaker, facilitator, coach, & author.